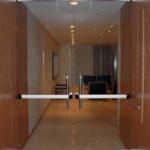 Basic Information:
Technique: Laminated Glass
Shape: Flat
Thickness: 8mm
Usage: Door
Color: All Color According The Customer's Inquire
Type: Tempered
Features:
Fine Safety ( Tempered glass )
High strength, tempered glass is four times as high as common glass strengthened glass is twice as heigh as common glass.
Thermal stress and wind resistance.
Bending and shock restistancel.
 Specification:
Min size: 200x350mm
Max size: 2400x5000mm
Glass thickness: 5-19mm
Total thickness: 6-60mm