| Regular Duty Spider Fittings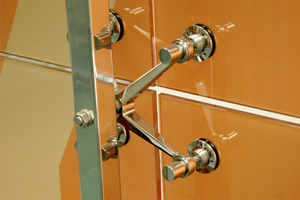 Spiders for Mounting to Posts, Walls or Fins
Designed for the 'All-Glass' Look
New Combination Glass Attachments Same Attachment Can Be User for Flush Mount or Cap Mount Applications Rigid Head and Swivel Head Styles Available
Our line of Regular Duty Spider Fittings can be used for 3/8" to 1/2" (10 to 12 mm) glass walls and canopies. CRL now stocks fourteen designs of Regular Duty that can be incorporated into these systems. We have one, two, three and four arm fittings that can be mounted to railing posts, structural walls or fins. All CRL Spider Fittings and Glass Attachments are made of 316 Alloy Stainless Steel to provide a virtually maintenance free design and a beautiful finish to complement most any decor.